Capital Lock & Key  (775) 443-8216

MOBILE LOCKSMITH SERVICE

CALIFORNIA AND NEVADA

AUTOMOTIVE - MOTORCYCLE - RV

LOST KEYS - new keys generated at your location

UNLOCK SERVICE - specializing in non-destructive entry methods

Transponder Chip Keys - in stock, programming  performed on site

Clone Keys - our keys require no batteries, the code lasts forever

Laser Sidewinder Keys - computer cut to exact factory specs

Worn Keys - restored to exact factory specifications

Immobilizer Re-programming Service - Honda - Lexus - Toyota

Smart Keys - proximity Keys - fobik keys - pod keys

Remote Key Case Repair - Toyota Honda Dodge Jeep Chrysler Lexus

Transponder Chip Key - repairs and restoration

Ignition Lock Service/Repair - Ford Focus Chrysler Jeep Dodge

Remotes/Fobs - sales and programming

Broken Key - extractions and restoration

Our goal is to provide customers with high quality service personalized for their unique needs. We are licensed and insured for services in California and Nevada.

We are highly invested in proper tools and training and we attend annual educational conferences to keep up with continuous changes to locks and key programming, all to provide the best possible service. We have the largest and most equipped mobile locksmith shop on wheels. Please contact us if you have any questions.

LOST KEYS MADE - for locks around the home, office, garage, or storage 

UNLOCK SERVICE we are lockout specialists with proper tools and training to ensure non-destructive entry

Re-Keys - locks re-combinated to disable any previously working keys and remove master pins left behind

New Installations - deadbolts, knob/lever locks, cabinet locks, security viewers

Lock Upgrades - door strikes, bump key prevention, security pin installation 

Interchangeable Core - we service Best, Falcon, KSP keyways, 6 and 7 pin

Commercial Lock - service and ADA compliance upgrades

High Security Locks - Medeco Restricted Key Systems

Master Key Systems - customized to your specific needs 

Keyless Entry - deadbolt or lever type electronic locksets

Worn Keys - restored to factory specifications

Lock Repair - door strikes, latches, cylinders

​Spare Keys Made - "while you wait"

If you have any questions please don't hesitate to contact us. We can help find the best solutions for you.

When purchasing additional keys, all available working keys should be present at the time of programming. This is to ensure any previously working keys are NOT deleted from the vehicle's on-board computer. Most foreign vehicles must have all previously programmed keys erased first before any additional keys can be introduced. This is standard procedure even for the dealerships. Any existing spare keys you have may need to be re-programmed to the vehicle again.

Programming Automotive Transponder Chip Keys: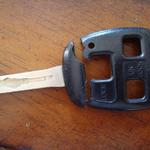 Lexus broken key case.

Check your key for hairline cracks near the base of the blade and below the Lock button...

BEFORE purchasing your keys from the internet... STOP!!! Contact us first !!!

Many online sites offer low price keys advertising that ANY locksmith or dealer will cut the keys for you... NOT TRUE.

​Generic key blades are often made with inferior metals that will damage or shorten the life of our key cutting equipment!

WE ONLY CUT KEYS THAT WE PROVIDE.

Brand new name brand aftermarket or OEM factory sealed keys may be accepted upon approval.

         Kwikset SmartKey®

             LOST KEYS?

  We unlock with NO damage

  Rekey error? Reset service!